Lwakhakha HARVEST! – mission video
Our recent Harvest Ministry outreach to Lwakhakha, Uganda – on the Kenya border – was so exciting! The Lord moved mightily as this remote and predominantly-Muslim area was "shaken" for Jesus Christ!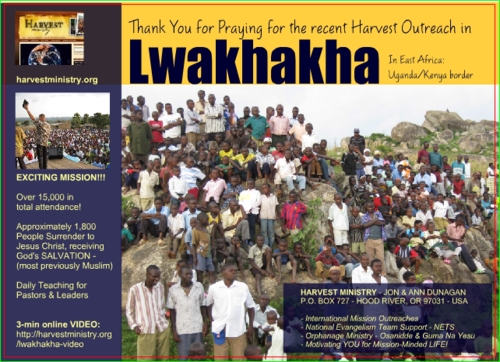 Five small local churches gathered together for this first ever open-air Gospel outreach in Lwakhakha – with worship, dancing, prayer, and preaching of the Gospel. During the daytime, hundreds of local believers gathered together (with NETS Ministers Naboth, Paul, and Joseph) for a local believers training, and in the evening approximately 5,000 people a night gathered in this isolated area (standing 360 – all around the platform!!!) to hear the Gospel message of Jesus Christ. Multitudes listened intently and many (approximately 1,800 precious people, over the course of the evangelistic outreach) turned from their sins and surrendered their lives to the Lord. On one evening, lightning and wind came just after the altar call – It was awesome!
These people definitely need our continued prayer support, as the Christian persecution and opposition many will face (especially newly saved wives) in this Muslim area may be great. Please pray for the five hard-working local pastors, and for the local Christian leaders, as they are beginning to follow-up on these new believers.
Thank you for your prayers, your heart for world missions, and for standing with us at Harvest Ministry to REACH SOULS for Jesus Christ. To God be the GLORY!!!