During the 1800s, missionary George Müller cared for thousands of orphan children in Bristol, England. He also traveled over 200,000 miles (by ship) across the globe, sharing the Gospel of Jesus Christ and encouraging Christians for world missions . . . all while maintaining a joyful example of ministry and family balance.

Over the next few months, we want to encourage you in your walk with God with examples from our missionary heritage.


The following excerpt is adapted from Ann's book,
The Mission-Minded Family

Trusting God for Daily Bread

George Müller (1805-1898) was a Christian missionary evangelist and a coordinator of orphanages in Bristol, England. Through his faith and prayers (and without asking for money) he had the privilege of caring for over 120,000 orphan children. He also traveled over 200,000 miles (by ship) to preach the Gospel of Jesus Christ in 42 countries and to challenge believers about world missions and trusting God. In his journals, Müller recorded miracle-after-miracle of God's provision and answered prayer:

One morning, all the plates and cups and bowls on the table were empty. There was no food in the larder and no money to buy food. The children were standing, waiting for their morning meal, when Müller said, "Children, you know we must be in time for school." Then lifting up his hands he prayed, "Dear Father, we thank Thee for what Thou art going to give us to eat."

There was a knock at the door. The baker stood there, and said, "Mr. Müller, I couldn't sleep last night. Somehow I felt you didn't have bread for breakfast, and the Lord wanted me to send you some. So I got up at 2 a.m. and baked some fresh bread, and have brought it."

Mr. Müller thanked the baker, and no sooner had he left, when there was a second knock at the door. It was the milkman. He announced that his milk cart had broken down right in front of the orphanage, and he would like to give the children his cans of fresh milk so he could empty his wagon and repair it.


. . . and an example of family-balance

At his wife Mary's funeral, Müller's loving words also represent a good example of the joy God gives when ministry and family priorities are balanced:

Were we happy? Verily we were.

With every year our happiness increased more and more. I never saw my beloved wife at any time, when I met her unexpectantly anywhere in Bristol, England, without being delighted so to do. Day by day, as we met in our dressing room, at the Orphan Houses, to wash our hands before dinner and tea, I was delighted to meet her, and she was equally pleased to see me. Thousands of times I told her, "My darling, I never saw you at any time, since you became my wife, without my being delighted to see you."





"Trust in the LORD with all your heart,
And lean not on your own understanding;
In all your ways, acknowledge Him,
And He will direct your paths."
(Proverbs 3:5-6)



The JOY of trusting JESUS!

George Müller is featured in this month's Harvest Ministry mission newsletter:


Can we send you our mission newsletter?

This month's Harvest Ministry mission newsletter (with a brand-new "look") highlights this awesome missionary hero, George Müller — along this month's theme of TRUSTING God (and — on the inside — current HM mission praise reports and highlights for prayer). We recently sent these out in the mail, but we have quite a few extras. We would be honored and thankful if you would like to become a mission prayer-partner with us.

If you would like a (in the real-mail) just CONTACT US with your mailing address.
Throughout the years, our family's international travels have led to amusing encounters, humorous misunderstandings, and hilarious adventures. When we have an opportunity to share about world missions (especially when we're talking with kids and teenagers) we often enjoy sharing a few of our funny missions stories or exciting adventures.

Being mission-minded is not boring!


Machu Picchu, Peru – South America

Right now, our oldest son, Patrick (who just completed his commission in the USMC, as a commanding officer in Ground Intelligence), is now on a 'round-the-world adventure (not as for military or missions work, but simply for a personal experience).

This week, he's in South America; he just completed a 4-day trek to visit Machu Picchu in PERU . . . and we're all curious where he's heading next . . .

All across the globe . . .

In just a few days, Josh & Anna Dunagan (our son and daughter-in-law) will be heading to COSTA RICA, Central America — with Gospel Projects International — on a mission trip to distribute Bibles door-to-door with a missionary family, and to minister in street evangelism.

Our oldest daughter Christi (who is engaged to be married in June to Trae Childs — a third-generation missionary from NIGER — in West Africa) will be ministering with Ann at several DARING DAUGHTER events in March, to encourage teen girls for world missions.

and our college son Daniel (who is also engaged to be married in June to his sweetheart, Anna, and currently working in the ORU missions department) is excited about being a part a college mission outreach in June to GERMANY — in Europe.





Missions can be extremely fun!

Although international missions work often means adjusting to curious cuisine and challenging conditions, it can also be extremely fun. Our family has enjoyed Polynesian snorkeling, European museums, African safaris, Middle Eastern camel "excursions," South American professional soccer games, and Australian boat rides. Take our word for it — or better yet, try it yourself — missions is definitely not boring!

More about our family's international mission ADVENTURES
As Christians, we bring the cross-cultural, life-changing message of Jesus Christ and His forgiveness for sin. Our purpose is not to propagate our own cultural standards, but to present the Gospel in a redeeming yet culturally sensitive way to all people we meet.
Q.
Aren't ALL cultures equally valid?
Why should we try to change other people's cultures?
A.
The core issue of this question stems from a false application of "multiculturalism" — one that is politically correct, educationally encouraged, and sounds nice. But leaving people trapped in sin and isolated from God's hope of salvation isn't the "considerate" option.
As Christians, we bring the cross-cultural, life-changing message of Jesus Christ and His forgiveness for sin. Our purpose is not to propagate our own cultural standards, but to present the Gospel in a redeeming yet culturally sensitive way to all people we meet. Eliminating the beautiful uniqueness of international culture is not the purpose of missions; at times, however, sinful elements of a particular culture may need to change.
I will never forget an interview I had with an outstanding Christian teenager who attended a public high school. This young man led a lunchtime "Bible club" and worship time that grew to reach 250 of his fellow classmates. He was writing a school research paper on Christian missionary work and, specifically, he was trying to support his thesis that "modern missionaries do not attempt to 'change' foreign cultures."
I understood this young man's heart. He was trying to explain how today's Christian missionaries are different — more culturally appreciative and sensitive — than some of the old-time colonial missionaries (who attempted to expand all aspects of Western civilization throughout the world). But I still disagreed with his conclusion.
I asked this young man a pointed question. "But don't you try to 'change the culture' of the people you are trying to reach? Just look at the typical 'culture' of the teens in your high school before they come to Jesus Christ! Look at the way they dress! Listen to their music, their foul language, and the way they address their teachers! What about the DVD's they watch and the movies they sneak into? What about typical teenagers involved in premarital impurity, or the girls who've had abortions? Aren't all of these a part of teen 'culture'?"
I went on to explain to him, "Culture is life!! When you share Christ in your high school, of course you don't want your friends to stop being teenagers — that's who they are! But you do want Jesus Christ to totally transform the way they live and the way they make their decisions!"
Around the world, societies that have developed isolated from God's laws and the gospel are filled with sinful cultural elements:
tribal hatred, ancestral worship, and idolatry
immoral sex, adultery, and prostitution
drug addiction, drunkenness, and witchcraft
abuse and neglect of women and children
As Christians, our job is to bring the light of Jesus to every precious culture. Through His Word and His Holy Spirit, God will show people the changes they need to make to redeem their cultures back to Him.
All people are equally valid. All cultures need Jesus.
Revelation 5:9
And they sang a new song, saying: "You are worthy to take the scroll, And to open its seals; For You were slain, And have redeemed us to God by Your blood Out of every tribe and tongue and people and nation."
"The Pit" is unlike anything you have likely experienced. It is totally different than a camp porta-potty and has absolutely no resemblance to a typical American bathroom . . .

Mission Maker Magazine

Ann's article, "The Lighter Side of Missions," published in Mission Maker Magazine, featured funny mission stories about rats, pit toilets, and eating grasshoppers. It's a highlight from her book, The Mission-Minded Child – Raising a New Generation to Fulfill God's Purpose.
Back to Mission-Minded Books & Resources
Of Rats & Pits:

Never Shine a Flashlight Down THE PIT!

A Dunagan Family Mission Story

(from Ann's perspective)




"The Pit" is unlike anything you have likely experienced. It is totally different than a camp porta-potty and has absolutely no resemblance to a typical American bathroom. Not one home decorating magazine is displayed in a basket to read at your leisure, not one pretty towel hands on a shiny silver bar, and fluffy coordinating bathmats are nowhere to be seen.

The Pit it a cement or mud cubicle with a weathered wooden door, a six-inch square hold in the ground, and an unforgetable "aroma" –all above a very, very deep pit.

One night we were in a remote African village dominated by demonic witchcraft. It was late . . . and dark; and a while after the evening ministry time was over our outreach team got rolling in one of those funny, middle-of-the-night conversations. The topic turned to some very practical missionary advice: "Be sure to never shine your flashlight down the Pit!" (Have you ever watched that scene from Raiders of the Lost Ark when Indiana Jones throws a torch down into the forbidden tomb and sees what he dreaded most–the floor alive with snakes?! I think you get the picture. The Pit is often swarming above with flies; and in the unknown depths below, it's alive . . . with no ones now what!)

We were all laughing hysterically, including me . . . until I realized I had to "go," and it just couldn't wait until morning.

I got out my flashlight and went out into the darkness, through the rain–all by myself to the Pit. By this time, nothing seemed funny anymore. I was very tired and wouldn't have minded those fluffy coordinating bathmats As I neared the "aroma," I tried to decide my strategy. How could I go about using the Pit without shining the flashlight down?

When I arrived, I quickly threw open the rickety door–and barged in upon the biggest rat I had ever seen in my life! (With its tail it must have been nearly two feet long!) I wish I could say I was your strong unflinching woman; but I screamed and just stood there, soaking wet, crying in the dark.

My precious husband, Jon, came to my rescue, got rid of the creature, made sure the coast was clear, then stood guard to make sure I was protected.

I bravely reentered the Pit with my flashlight, while my husband reentered his comical, slightly mischievous mood. He told our team to come watch something funny as he rolled a rock toward me under the Pit's door. My reaction did not let them down. I thought the rat was attacking me and I totally freaked out.

Everyone (except me!) thought it was the funniest joke of the evening!
Give me the Love that leads the way
The Faith that nothing can dismay
The Hope no disappointments tire
The Passion that will burn like fire . . .

-Amy Carmichael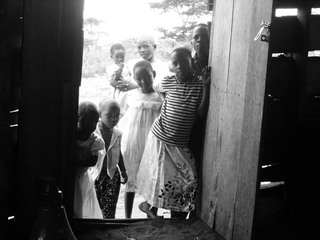 Ezekiel 3:18-19 says, "When I say to the wicked, 'You shall surely die,' and you give him no warning, nor speak to warn the wicked from his wicked way to save his life, that same wicked man shall die in his iniquity; but his blood I will require at your hand. Yet, if you warn the wicked, and he does not turn from his wickedness, nor from his wicked way, he shall die in his iniquity but you have delivered your soul."
These verses stress the vital importance of our Christian and biblical command to share the Gospel with the "heathen" (this term is outdated and unpopular, yet it is vital for mission-minded focus. "Heathen" refers to precious unsaved people who have never yet heard the Gospel message of God's salvation through Jesus Christ). So often, we are distracted by good and busy activities, even in the church. The following vision, received by Amy Carmichael, compares these activities to making "daisy chains." As you read this, may you allow the Lord to challenge your heart. May we "see" the waterfall of souls who so desperately need Him, and may we be more aware of God's passionate love for these people, and allow His love to flow through us . . . through our prayers, our giving, and our obedience.
Amy Carmichael
Missionary to India (1867-1951)

Amy Carmichael was born in Northern Ireland to a wealthy family. When she was eighteen, her father died, and as the eldest of seven children, Amy received much of the family responsibility. In 1892, at the age of twenty-four, Amy Carmichael received a "call to missions," and soon left for Japan, and later, Ceylon. After returning home for a brief time, she finally set sail for the country that would become her long-term home: INDIA!

Within twelve years, Miss Carmichael had 130 children in her care and had rescued many hundreds more. For fifty-five years, she sacrificially lived and ministered in India…without even a furlough. Many others were inspired to join with her, and together with these co-workers, she established an Indian mission work called "The Dohnaver Fellowship".

Amy Carmichael is best remembered for her life work of saving precious Indian children (especially rescuing many young girls from Hindu temple prostitution). Even today, through her books and writings, the impact of her life and testimony continues to challenge many to a deeper walk with the Lord, and a deeper commitment to His service.
Thy Brother's Blood – A Vision for Souls

The tom-toms thumped straight on all night, and the darkness shuddered 'round me like a living, feeling thing. I could not go to sleep, so I lay awake and looked; and I saw, as it seemed, this:

That I stood on a grassy precipice, and at my feet at crevice broke down into infinite space. I looked, but saw no bottom; only cloud shapes, black and furiously coiled, and great shadow-shrouded hollows, and unfathomable depths. Back I drew, dizzy at the depth.

Then I saw forms of people moving in single file along the grass. They were making for the edge. There was a woman with a baby in her arms and another little child holding onto her dress. She was on the very verge. Then I saw that she was blind. She lifted her foot for the next step…it trod air. She was over, and the children over with her. Oh, they cry as they went over! Then I saw more streams of people flowing from all quarters. All were blind, stone blind; and all made straight for the crevice's edge. They were shrieks as they suddenly knew in themselves that they were falling, and a tossing up of helpless arms, catching, clutching at empty air. But some went over quietly and fell without a sound.

Then I wondered with a wonder that was simple agony, why no one stopped them at the edge. I could not, I was glued to the ground. And I could not call; though I strained and tried, only a whisper would come.

Then I saw that along the edge there were guards set at intervals. But the intervals were too great; there were wide, unguarded gaps between. And over these gaps the people fell in their blindness, quite unwarned; and the green grass seemed blood-red to me, and gulf yawned like the mouth of hell.

Then I saw, like a little picture of peace, a group of people under some trees with their backs turned towards the gulf. They were making daisy chains. Sometimes when a piercing shriek cut the quiet air and reached them, it disturbed them and they thought it a rather vulgar noise. And if one of their number started up and wanted to go and do something to help, then all the others would pull that one down. "Why should you get all excited about it? You must wait for a definite call to go! You haven't finished your daisy chain yet. It would be really selfish," they said, "to leave us to finish the work alone."

There was another group. It was made up of people whose great desire was to get more guards out; but they found that very few wanted to go, and sometimes there were no guards set for miles and miles of the edge.

One girl stood alone in her place, waving the people back; but her mother and other relations called, and reminded her that her furlough was due; she must not break the rules. And being tired and needing a change, she had to go and rest for a while; but no one was sent to guard her gap, and over and over the people fell, like a waterfall of souls.

Once a child caught at a tuft of grass that grew at the very brink of the gulf; it clung convulsively, and it called — but nobody seemed to hear. Then the roots of the grass gave way, and with a cry the child went over, the two little hands still holding right to the torn-off bunch of grass. And the girl who longed to be back in her gap thought she heard the little one cry, and she sprang up and wanted to go; at which they reproved her, reminding her that no one is necessary anywhere; they gap would be well taken care of, they knew. And then they sang a hymn.

Then through the hymn came another sound like the pain of a million broken hearts wrung out in one full drop, one sob. And a horror of great darkness was upon me, for I knew what it was; the cry of the blood.

Then thundered a voice, the voice of the Lord. And he said, "What hast though done? The voice of thy brother's blood crieth unto Me from the ground."

The ton-toms still beat heavily, and darkness still shuddered and shivered about me. I heard the yells of the devil-dancers and weird, wild shrieks of the devil-possessed just outside the gate.

What does it matter, after all? It has gone on for years; it will go on for years. Why make such a fuss about it? — God forgive us! God arouse us! Shame us out of our callousness! Shame us out of our sin!

Amy Carmichael, Thy Brother's Blood Crieth:
(India: The Dohnavur Fellowship).
Obtained from an article from Bethany Fellowship, Inc.
Minneapolis, MN.