COMING HOME . . .

We're praising God for His protection over Jon Dunagan, as he was flying home (en route to Oregon, USA) from Harvest Ministry's recent KAGADI mission outreach in Uganda, EAST AFRICA.

Today (on 10/10/10), during Jon's initial flight home (via KLM airlines, departing from Entebbe, Uganda to Amsterdam, Netherlands) a near flight disaster was averted.

During departure, a large bird flew (or was sucked) into the engine; the plane engine caught fire, and gasoline dumped out in midair. Jon wrote in a text message that the plane sounded like it was falling apart during take-off. Immediately, the plane had an emergency landing back at the Entebbe airport. During the emergency landing, the plane nearly flipped, and Jon reported that it felt like they almost crashed. Passengers were unloaded onto the runway, as FIRE TRUCKS were present. Jon said the situation was "very terrifying."

We are praising God for His supernatural protection, and THANK YOU for your continued prayers over this mission outreach and everyone involved.

P.S. Jon Dunagan arrived safely home in Oregon, after this close-call. A few news sources, see here and here, reported the event, and two see here and here even quoted Jon's reaction (from this Harvest Ministry website), although mistakenly claimed Jon's 'home country' is NETHERLANDS).

Be sure to also see:

>> KAGADI: Click here (for KAGADI PHOTOS and day-by-day prayer & praise reports)
>> KAGADI: Click here (for KAGADI background & preparation details)
>> KAGADI: Click here (for 4-minute KAGADI MISSION VIDEO)
Kagadi, Uganda

Right now, Harvest Ministry is getting ready for our next evangelistic outreach (in early October, 2010) to KAGADI, a remote and spiritually needy city/village in Western Uganda, near the Democratic Republic of the Congo.

 

This area has a reputation throughout Uganda for being involved in deep witchcraft and for continuing to practice human cannibalism. Kagadi has a few small and isolated churches and some local believers who are praying hard for their community, but as far as we know, it has never had an evangelistic outreach to openly proclaim the Gospel message of Jesus Christ. It is a region desperately in need of God's salvation and the power of His Holy Spirit to penetrate the darkness.

Advance preparations, advertising, and government permissions have been underway for some time, and we are believing for a mighty harvest of SOULS.

Our greatest need for this upcoming mission outreach is POWER, spiritually and physically: we need fervent PRAYER support for God's anointing and for spiritual freedom for theses people…and we also need a new GENERATOR (as our faithful and hard-working old generator finally "bit the dust" after years of rugged missionary service).


Photo: Harvest Ministry altar call in Southern Africa (with Jon Dunagan)

What an exciting time!

Please keep our family and the city of KAGADI in your prayers, as we ALL joyfully live to expand God's Kingdom!

In His Harvest,

Jon & Ann Dunagan (& all)

 

"Sympathy is no substitute for action." — David Livingstone

"Expect great things of God. Attempt great things for God." — William Carey

"You have one mission on earth — to save souls." — John Wesley

"Go into all the world and preach the Gospel…" — Jesus Christ
Be sure to also see:

>> KAGADI: Day-by-day Kagadi updates & photos
>> KAGADI: God's Protection During Flight Emergency
>> KAGADI: 4-minute MISSION VIDEO from KAGADI, Uganda
Here's a ministry update from our 20-year-old daughter, Christi Dunagan, who just came back from her second summer mission, this time from NIGER, WEST AFRICA:


Hey Friends and Family!

Well, this summer has just been packed full of adventure and experiences. After five and a half weeks in Cambodia I had a 10 day break at home with my family before I jumped on another plane (well.. several planes, actually) to go to Niger, West Africa, where I would be a little over three weeks with my sweetheart Trae's family, ministering with them at several local churches and helping with two week-long African children's camps.

The trip was awesome. Living with the Childs' family for several weeks was such a great learning experience and glance into what life as a foreign missionary family is like. The children's camps were incredible as well. Hundreds of kids from different parts of the country all came together to learn more about the Lord. Hundreds received the baptism of the Holy Spirit and left ready to take what they learned back to their homes and villages

Thank you so much everyone who helped support this trip. God bless!!!

Christi



The life expectancy in Niger is only 52 years old, and 49.7% of the country is under the age of 14. Children's missions outreach is a crucial part of ministry in this country that is so lost and in need of the Good News of Jesus Christ. 



This is a newly saved "Gourmanche" girl. Niger is only approximately 3% Christian. Tribal tradition includes scaring the faces of babies to identify their village and people group. The Gourmanche people also file their teeth to points as a sign of beauty and identity. In the past two years several churches have been planed in Gourmanche villages and hundreds have come to accept Christ as their Lord and Savior. 
Here's my special guy, Trae Childs, doing a puppet show with the kids, speaking in the "Housa" language. In addition to English, he speaks "Housa" (fluently) and French (nearly fluently, although very "African"). Trae is a 3rd generation missionary kid; his missionary grandparents have been preaching the Gospel in West Africa (in both Nigeria and Niger) for 30 years; and his parents and family have been full-time missionaries (focusing on evangelism, church planting, discipleship, and poverty relief) in Niger, West Africa for 13 years.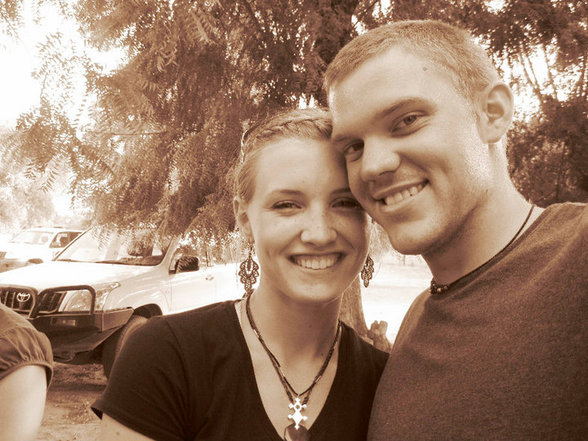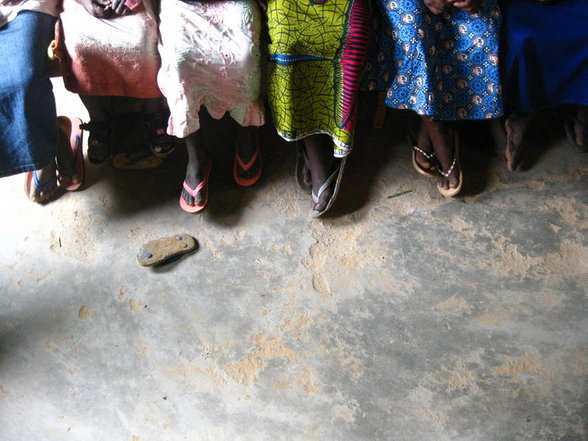 More about the Childs Family and their missionary work in NIGER
More about how to pray for NIGER, WEST AFRICA (link to Operation World)
More about Christi's earlier mission outreaches (to CAMBODIA & E. AFRICA)
Here are some recent ministry pictures of Christi's summer mission outreach to Cambodia. Ministry includes teaching English for outreach, bringing JOY to poverty-stricken slums, teaching worship conferences and music classes for worship teams, and doing children's ministry.


(Click here for earlier posts about this CAMBODIA MISSION.)

Here are a few pictures to share the news: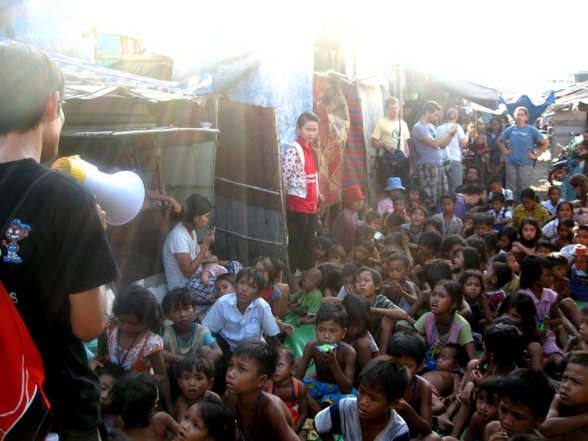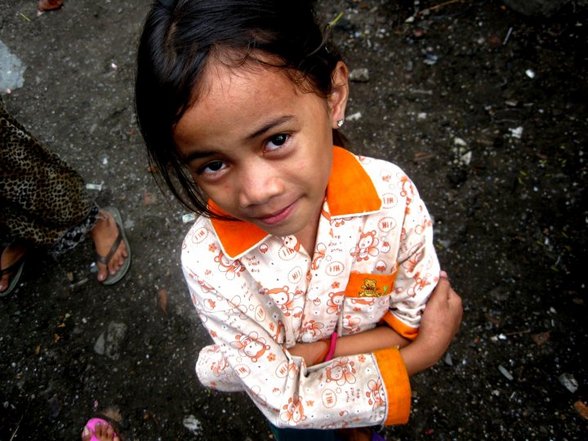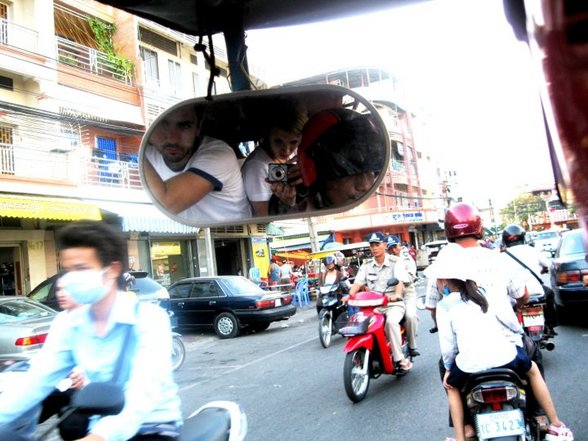 Thanks to everyone who gave toward Christi's mission trip (an outreach of ORU's summer music missions). Please keep her, and the team, and the people they are reaching in Cambodia in your prayers!!!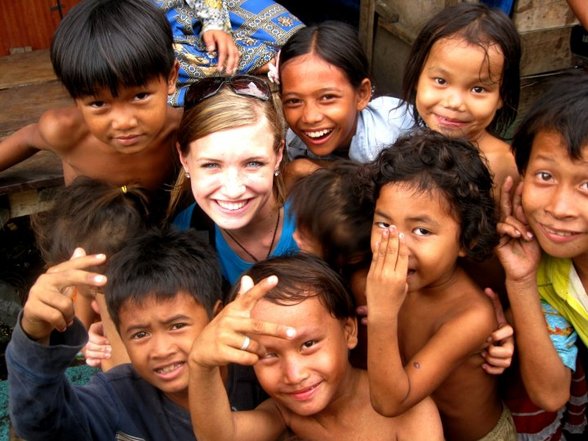 Jon Dunagan shares an AFRICA MISSIONS update from Harvest Ministry's recent evangelistic outreach to Bukwo, Uganda – April, 2010.

Hear the details about an exciting dream, God's timely provision, dangerous mountain-cliffs, an unexpected delay, and many front-line praise reports about MINISTRY, LOVING ORPHANS, and REAPING SOULS . . . fresh from the HARVEST FIELDS!!!



LISTEN HERE (click on REPORT FROM AFRICA MISSION).

Audio only
Time Length: 20 minutes.
Recorded at the Dunagan's home church in Hood River, Oregon.
Jon & Ann Dunagan's oldest daughter, Christi Dunagan (a recent college graduate, age 19), is now serving as an Assistant Team Leader (ATL) for a 6-week ORU summer music mission to CAMBODIA, working with long-term missionaries and Cambodian believers.


Here are a few preliminary ministry highlights along with some photos from the beginning of the trip. Christi said that she didn't get many ministry pictures yet, but those will be coming!


The mission team will be focusing on the following:

As an outreach to draw non-Christians to the church, Christi and several team members will help by teaching English (using the Bible as a text) to about 40 Cambodian students, mostly older teens and young adults, both guys and girls. About 80% of the believers at this church (and 100% of the Cambodian staff) received the Lord and became a part of the church through this free English school, which also provides free classes in office skills and typing.
Helping people and doing mission work in a slum area.
Doing children's ministry at the church and in various locations.
Learning more about the horrible problem of Cambodian child trafficking. Christi has met several who work full-time at the church's home for rescued girls; however, this home is at an undisclosed location and her team will not be working with these girls.
Teaching children's Bible classes to the kids of the full-time missionary families.
Teaching music theory classes, piano lessons, and classes about worship to the worship teams at the church.
Using music ministry for outreach.
Being a light, helping in whatever way possible, and sharing the life and love of JESUS!!!

A Welcoming Staircase in Hong Kong
HONG KONG photos:
The ORU Cambodia Mission Team
CAMBODIA photos:
Here is a quote from one of Christi's journal entries:

"The last place we went to was Wat Phnom, a Buddhist temple . . . since it was a holy holiday, lots of parents were coming to take pictures of their little boys who were monks.

Apparently it is good for a family to have their eldest boy be a monk for at least two years because they believe that will being "salvation" to the parents, so boys can be short term monks, but if women decide to dedicate their life to God it's for life.

Monks also can't touch a women, wear shoes, have cell phones, or look straight up – although the two monks I met and talked to did all three. Oh well. I guess they were taking a day off from monkdom."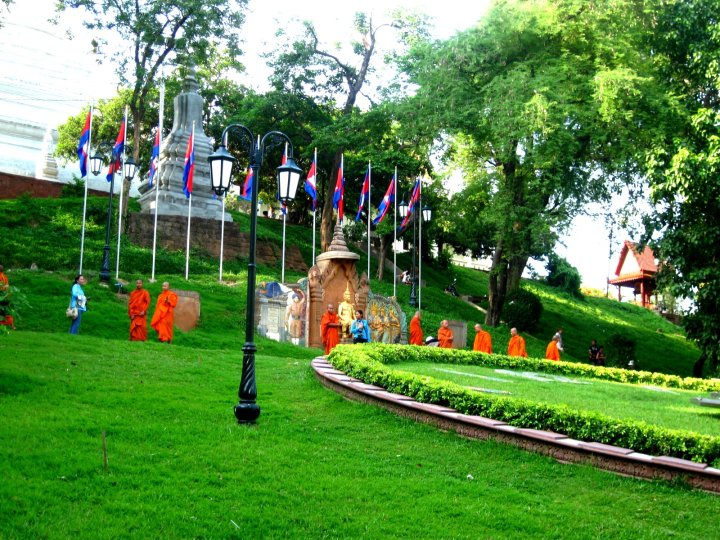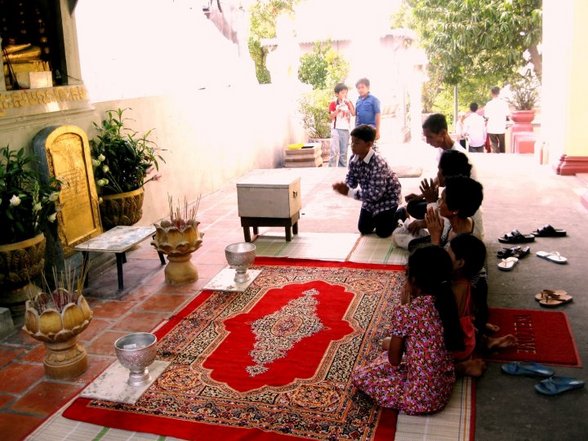 This photo (above), showing Cambodian children praying to false idols, makes us so sad; but we are thankful that the mission team will be able to share the Good News of Jesus Christ with kids (in the slums and at the church) during their summer outreach.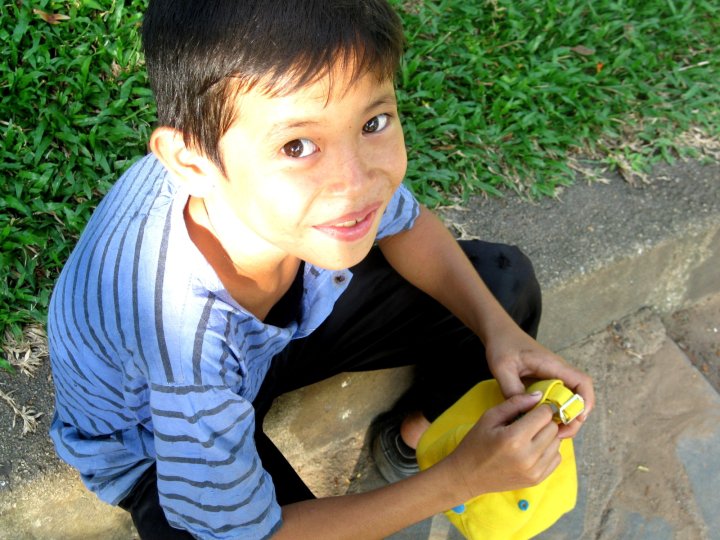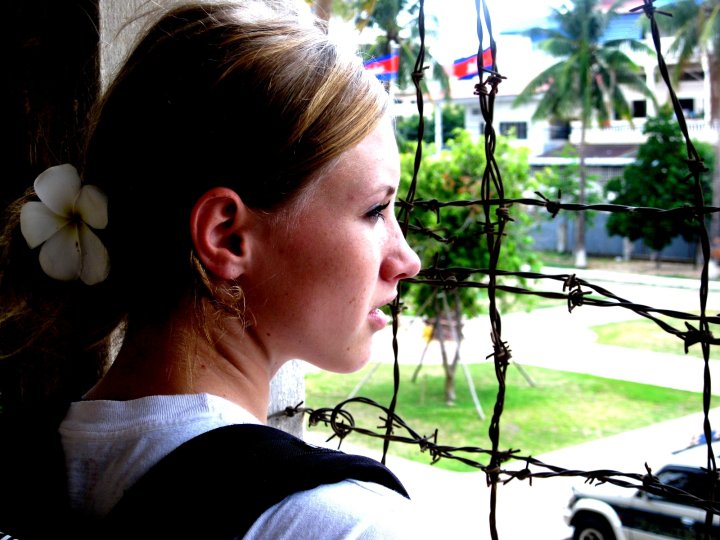 Please pray for Christi and the mission team, for the Lord to shine through them to people in need — with the truth of the Gospel and the love of Jesus Christ.


Jesus said, "I am the way, the truth, and the life. No man comes to the Father, but by Me" (John 14:6).
In the lush and mountainous area of Bukwo, Uganda, thousands of people crowded into the village center each evening to listen to the Gospel message, with fervent intensity.
For years, this area (located in the middle of an extinct volcano) has been isolated from the rest of Uganda, due to nearly impassable roads; yet new roads were just built as the area had only recently been established as a new Ugandan district. It was God's timing!
For this Harvest Ministry outreach, 12 remote churches gathered together for the first time, and we praise God for the multitudes of people who surrendered their lives to Jesus Christ. We are so thankful to everyone who prayed with us for these precious people, and appreciate those who helped to send us with God's Good News. Please continue to pray for the local pastors and church leaders of this Bukwo district, as they will now work to train and disciple these new believers to serve and follow the Lord. To God be the glory.
Keep watching this post for daily updates from this week's Harvest Ministry mission outreach to BUKWO, UGANDA, and please PRAY for many people to repent and to surrender to JESUS CHRIST!!!

Harvest Ministry's mission to Bukwo, Uganda is April 13th through April 21st (with the actual evangelistic outreach dates from Thursday, April 15th to Saturday, April 17th). Bukwo is a remote and isolated area in East Africa, on the Uganda/ Kenya border. This lush region is located inside of an extinct volcano, with a population consisting of various mixed tribes (with primarily tribal religions). As far as we know, this hidden area has never had a public open-air GOSPEL OUTREACH. Please pray for SOULS to be saved as we share the GOOD NEWS of JESUS CHRIST. PRAYER FOCUS forAPRIL 14th:

PRAISE:

Jon & Daniel arrived safely into Entebbe, Uganda, after several long flights. They will spend the evening in Kampala, Uganda and then will travel tomorrow morning, by road, on a long drive to Bukwo.

HEALTH:

Pray for health and strength, and continued safety for traveling.
PREPARATION: Continue to pray for the advance team, and for intercession to increase, both in Africa and among prayer supporters in the U.S. (and in other places).

APRIL 13:

ADVANCE TEAM:

The Harvest Ministry team is already in BUKWO, UGANDA. The advance team is being led by Ugandan NETS minister, Paul Kintu, and Harvest Ministry's music leader, Geoffery. Pray for these two national leaders to have wisdom, favor with government leaders, and unity with church believers, as they are finalizing preparations.

TRAVEL SAFETY:

Also, please pray for traveling safety and health for Jon Dunagan and Daniel Dunagan as they are flying to Uganda, East Africa today (en route through Amsterdam, Netherlands).

Details: Jon Dunagan will be going on this outreach, accompanied by our 17-year-old son, Daniel Dunagan (a homeschooled high school senior), along with Harvest Ministry's Ugandan evangelism team.
God demonstrates His LOVE . . .




Here are some exciting photos and a NEW VIDEO from Harvest Ministry's recent evangelistic outreach in East Africa to the remote mountain village of MAGALE, Uganda (on the border of Kenya). Over the course of the outreach, over 25,000 people came to hear the preaching of the GOSPEL, and approximately 5,000 people surrendered their lives to Jesus Christ. The city (previously a tribal-religion/witchcraft stronghold) was impacted for GOD'S KINGDOM. Many were touched by the Lord, including a "head witchdoctor" who came forward to repent of his sins and to receive God's salvation.

To God be the GLORY!!! What a JOY to reap a HARVEST of SOULS!!!

Rare Solar Eclipse, "Raw" Evangelism, & a Rainbow!

On the first day of the MAGALE MISSION, this area of Uganda experienced a RARE SOLAR ECLIPSE (the news referred to it as a "RING OF FIRE" – and to us it was a "TOKEN" – like Rahab's Scarlet Cord from Joshua 2:12-21 – emphasizing the BLOOD OF JESUS and God's saving love, even in the midst of destruction). The mission was truly "RAW & RUGGED EVANGELISM (with rainstorms, witchdoctors trying to curse us, a crazy guy charging through the crowd with a rock, thousands of villagers hearing the Gospel and about 5,000 people surrendering their lives to Jesus Christ!!!) Then, on the final night, right during the preaching, there was a beautiful RAINBOW over the crowd! How AWESOME!!!

God loves the whole world, and even this remote and hidden area of Magale, Uganda!


MORE ABOUT THE ECLIPSE: On the opening day of the Magale Mission Outreach (while the world's eyes were focused on the devastating aftermath from the earthquake in Haiti) Uganda witnessed a very rare solar eclipse. A red ring around the darkened sun, described by national newspapers as a "Ring of Fire", was a "token" to us and to the people of Magale, like the "true token" of the Scarlet Cord of Rahab from Joshua 2:12-21, remarkably illustrating God's provision of salvation for the whole world, only through the shed blood of Jesus Christ, even for the people of this remote and hidden village of Magale, Uganda.


What can wash away my sin? NOTHING BUT THE BLOOD OF JESUS!
What can make me whole again? NOTHING BUT THE BLOOD OF JESUS!
Oh, precious is the flow, that makes me white at snow!
No other 'fount I know. NOTHING BUT THE BLOOD OF JESUS!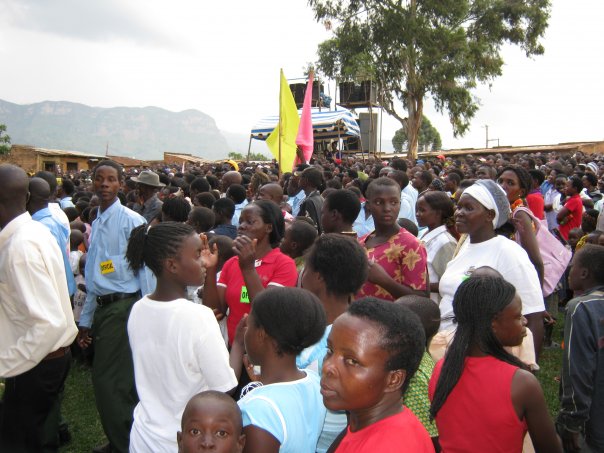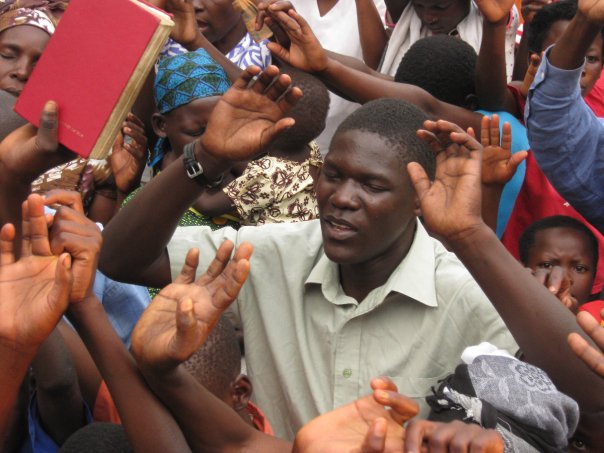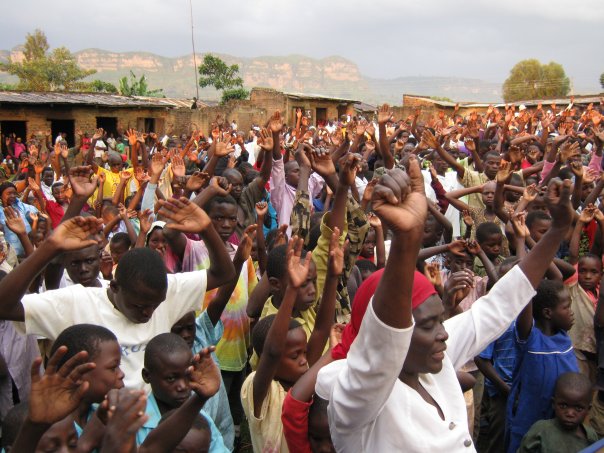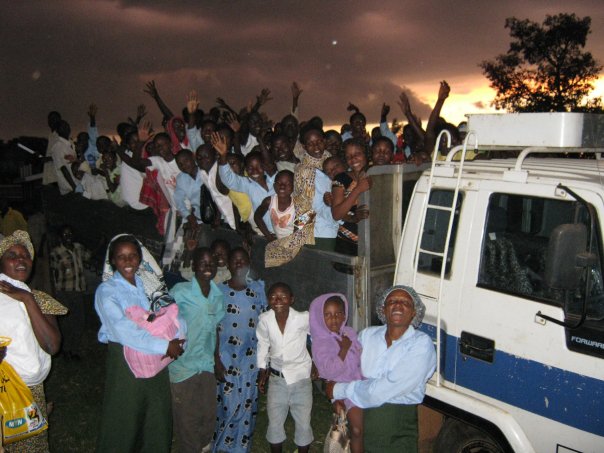 PLEASE KEEP PRAYING FOR MAGALE!

Please continue to keep these people of Magale, Uganda in your prayers. Right now, a qualified national pastor is working hard to establish a new church in this area to help these brand-new believers to grow in their faith and to become fruitful for Christ.

"Others, like seed sown on good soil, hear the word, accept it, and produce a crop—thirty, sixty or even a hundred times what was sown" (Mark 4:20).

Thanks for your prayers, and for all who helped send us!

To God be the GLORY!

In His Love & Harvest,
Jon & Ann (& all)

P.S. If you would like to join with us in specific prayer and/or mission support to help us to reach the lost with the Good News and Gospel message of Jesus Christ, we would be honored to send you our monthly HARVEST MINISTRY newsletter (for those of you in the US and CANADA). If interested, please CONTACT US with your mailing address!
Our recent Harvest Ministry outreach to Lwakhakha, Uganda – on the Kenya border – was so exciting! The Lord moved mightily as this remote and predominantly-Muslim area was "shaken" for Jesus Christ!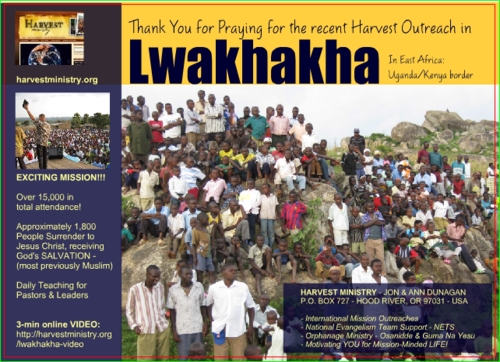 Five small local churches gathered together for this first ever open-air Gospel outreach in Lwakhakha – with worship, dancing, prayer, and preaching of the Gospel. During the daytime, hundreds of local believers gathered together (with NETS Ministers Naboth, Paul, and Joseph) for a local believers training, and in the evening approximately 5,000 people a night gathered in this isolated area (standing 360 – all around the platform!!!) to hear the Gospel message of Jesus Christ. Multitudes listened intently and many (approximately 1,800 precious people, over the course of the evangelistic outreach) turned from their sins and surrendered their lives to the Lord. On one evening, lightning and wind came just after the altar call – It was awesome!
These people definitely need our continued prayer support, as the Christian persecution and opposition many will face (especially newly saved wives) in this Muslim area may be great. Please pray for the five hard-working local pastors, and for the local Christian leaders, as they are beginning to follow-up on these new believers.
Thank you for your prayers, your heart for world missions, and for standing with us at Harvest Ministry to REACH SOULS for Jesus Christ. To God be the GLORY!!!