Releasing Your Family to God's Destiny
(Here's a sample chapter for you to enjoy from Ann's book, The Mission-Minded Family)
God has a destiny for your family. He has an individual plan for each member, as well as a "corporate" purpose for you as a family unit. God will help you, as parents, to train each child toward God's mission for his or her life, and He will help you to focus your family toward making a strong impact for His kingdom—in your community, in your church, in your children's schools, and in the world. The Bible says in Psalm 127:4, "Like arrows in the hand of a warrior, so are the children of one's youth."
This verse recently "hit" me in a new way as I was attending a graduation party. During the evening, a group of church leaders, led by the graduate's father, gathered to pray for this young man. He had been raised to have a fervent heart for God and for world missions, and we prayed for God's purposes to be fulfilled. As I laid my hands on the graduate's mom (my dear friend Karen), I could sympathize with her mixed feelings: happiness and pride combined with a sad realization that this season in their family's life was coming to an end. As we prayed, I "saw" (in my mind's eye) her eighteen-year-old son as a straight arrow in a bow. Afterward, I leaned over and whispered in my friend's ear, "You know, Karen, it's not enough just to aim our arrows; to hit the target we've got to release the string!"
As our children grow, there will be repeated times of releasing each one to God: letting go of a little hand as a baby takes that first wobbly step . . . letting go of total educational control as a child steps onto that school bus or enrolls in that first college course. Or what about that moment when we let go of the car keys and an eager teenager plops into the driver's seat of our car and takes control of the steering wheel?
Sometimes it's very scary.
As I write this chapter, my husband and I have a nearly twenty-year old son climbing a dangerous mountain and then the following week heading to Oxford, England for a summer-long study-abroad program. Our eighteen-year-old son just graduated from high school and will soon be moving to a university two thousand miles from home. Our nearly sixteen-year-old daughter is just about to get her driver's license.
No matter how many times I have released my children, I continually need to rely on God's fresh grace for today's particular moment. Whether it's dropping off a little one into the arms of a church nursery worker or dropping off a young adult at an international airport, I need to trust God.
Just like Hannah released her little Samuel, I have surrendered each child to the Lord; yet I still have times when God convicts me that I need to rely on Him even more. At a deeper level, I need to continue to trust Him. With faith, I need to trust that God will direct each of my kids to fulfill His purposes (without me pushing them to do what I want). I need to trust that God will bring just the right spouse for each of my sons and daughters (without me trying to make something happen). And I need to trust God that He will protect my children as they begin to step out to fulfill His destiny (without me worrying or trying to figure it out).
As I have thought about this need to totally release each of my children to God's purposes, I have tried to imagine—in my own finite way—what our heavenly Father must have experienced when He released His Child. God never struggles, but I believe He can relate to my feelings (and yours). He too had to release His Son—His only Son—in order to fulfill His plans for this earth.
Imagine with me:
What if someday God called one of my children . . . let's just say, for an example, to go on a summer mission trip to Calcutta, India?
Would I be able to send him or her with confidence and joy?
If my husband and I prayed about the particular outreach and God gave us His peace about it, I know I would. My husband and I would uphold our child in prayer, and we would trust God's direction. And as a mom, I would rely on Him for grace.
But the sacrifice God made was far greater . . .
What if someday a child of ours decided to move to Calcutta, India, for perhaps ten months . . . or ten years . . . or even longer? Could I handle that?
That would be much harder.
Although it would be difficult to live so far apart, I would do my best to support him or her through regular prayer and communication (and I would definitely hope for e-mail access!). If my grown child had a family, I would really miss getting to know my child's spouse and his or her family; and I can hardly imagine how much I would yearn for time with those future grandchildren. Yet, if God was calling my child, I would let my child go . . . and rely on Him for extra grace.
But God's sacrifice was still far greater . . .
So, to take the analogy one step further, what if my husband and I, back in time about twenty years ago, were expecting our first child, and God told us that He wanted us to surrender this precious newborn—right from birth? What if God said He had chosen a poor couple in Calcutta, India, to raise our baby? What if He said our little one would grow up in some obscure squatter village . . . would live among filth and poverty . . . would spend his life helping people . . . and, in the end, would be rejected, hated, and brutally killed by the very people he was sent to help?
Would I send my son to do that? How could I?
But (perhaps) that is a glimpse of what God did for us.
If we are going to raise a generation of world changers, it is likely that we will need to surrender our children into areas that may make us uncomfortable. He could call our child to pioneer a megachurch in a crowded inner city or to raise a large, God-fearing family in a quiet rural town. He may want our child to impact a corrupt political system or to redirect a greed-motivated business. He could call our precious son to enlist in the military or our pure daughter to have an effect on the media. He could call our child to Cairo, Egypt . . . or to New York City . . . or maybe even to Calcutta, India.
As mission-minded parents, will we "let go" of those arrows and encourage each child to fulfill the Lord's plans? Or will we be God's greatest hindrance?
It's a heart issue, and it's big.
Just as God released His Son for us, we need to totally release each of our children—again and again, every day—for His eternal purposes.
Pursuing God's Purposes
An excerpt from The Missions Addiction, by David Shibley.
We whine, "I just want to know my purpose; I've got to reach my destiny." We race all over the country to attend "destiny conferences," and we devour tapes and books on "reaching your full potential." It would be amusing if it were not so appalling. Even cloaking our self-centeredness in Christian garb and jargon cannot cover the nakedness of this cult of self that has infested much of the church. How can we ever hope to discover our purpose in the earth with little or no interest in His purpose? How will we ever know our destiny when we have so little identification with God's destiny for the nations? It certainly is good to pray, "Lord, what is Your will for my life?" But even this can be a self-absorbed prayer. It is far better to pray, "Lord, what is Your will for my generation? How do You want my life to fit into Your plan for my times?"
Pursuing God's purposes, not our own, is the path to personal fulfillment.
We've a Story to Tell to the Nations
A missions hymn, by H. Ernest Nichol (1862–1928)
We've a story to tell to the nations,
That shall turn their hearts to the right,
A story of truth and mercy,
A story of peace and light
A story of peace and light.
Chorus:
For the darkness shall turn to dawning,
And the dawning to noonday bright,
And Christ's great kingdom shall come on earth,
The kingdom of love and light.
We've a song to be sung to the nations,
That shall lift their hearts to the Lord,
A song that shall conquer evil,
And shatter the spear and sword,
And shatter the spear and sword.
We've a message to give to the nations,
That the Lord who reigneth above
Hath sent us His Son to save us,
And show us that God is love,
And show us that God is love.
We've a Savior to show to the nations,
Who the path of sorrow hath trod,
That all of the world's great peoples
May come to the truth of God,
May come to the truth of God!
Chorus:
For the darkness shall turn to dawning,
And the dawning to noonday bright,
And Christ's great kingdom shall come on earth,
The kingdom of love and light.
"I have seen the Vision and for self I cannot live;
Life is less than worthless till my all I give."
Oswald J. Smith
If you enjoyed the chapter (or if you've read the book), let me know what you think. And how can we encourage others to be more mission-minded?
Blessings to you and your family!
Ann
Here's a ministry update from our daughter, Christi, just back from her second summer mission, this time from NIGER, WEST AFRICA:


Hey Friends and Family!

Well, this summer has just been packed full of adventure and experiences. After five and a half weeks in Cambodia I had a 10 day break at home with my family before I jumped on another plane (well.. several planes, actually) to go to Niger, West Africa, where I would be a little over three weeks with my sweetheart Trae's family, ministering with them at several local churches and helping with two week-long African children's camps.

The trip was awesome. Living with the Childs' family for several weeks was such a great learning experience and glance into what life as a foreign missionary family is like. The children's camps were incredible as well. Hundreds of kids from different parts of the country all came together to learn more about the Lord. Hundreds received the baptism of the Holy Spirit and left ready to take what they learned back to their homes and villages

Thank you so much everyone who helped support this trip. God bless!!!

Christi



The life expectancy in Niger is only 52 years old, and 49.7% of the country is under the age of 14. Children's missions outreach is a crucial part of ministry in this country that is so lost and in need of the Good News of Jesus Christ. 



This is a newly saved "Gourmanche" girl. Niger is only approximately 3% Christian. Tribal tradition includes scaring the faces of babies to identify their village and people group. The Gourmanche people also file their teeth to points as a sign of beauty and identity. In the past two years several churches have been planed in Gourmanche villages and hundreds have come to accept Christ as their Lord and Savior. 
Here's my special guy, Trae Childs, doing a puppet show with the kids, speaking in the "Housa" language. In addition to English, he speaks "Housa" (fluently) and French (nearly fluently, although very "African"). Trae is a 3rd generation missionary kid; his missionary grandparents have been preaching the Gospel in West Africa (in both Nigeria and Niger) for 30 years; and his parents and family have been full-time missionaries (focusing on evangelism, church planting, discipleship, and poverty relief) in Niger, West Africa for 13 years.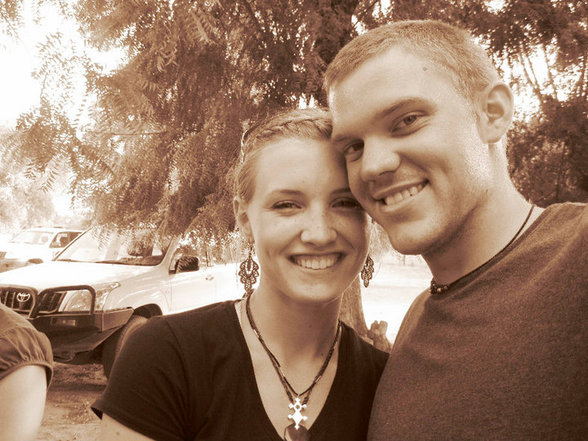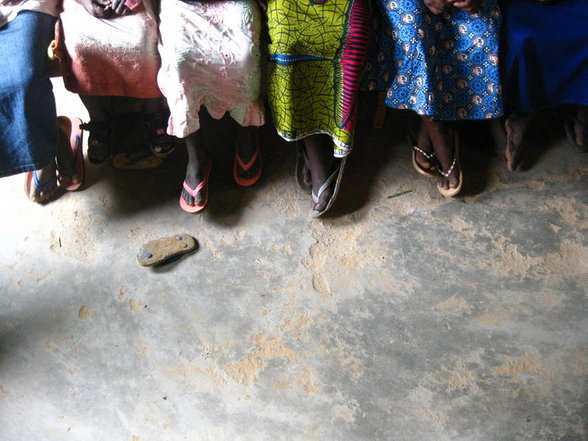 More about the Childs Family and their missionary work in NIGER
More about how to pray for NIGER, WEST AFRICA (link to Operation World)
More about Christi's earlier mission outreaches (to CAMBODIA & E. AFRICA)
As Christians, we bring the cross-cultural, life-changing message of Jesus Christ and His forgiveness for sin. Our purpose is not to propagate our own cultural standards, but to present the Gospel in a redeeming yet culturally sensitive way to all people we meet.
Q.
Aren't ALL cultures equally valid?
Why should we try to change other people's cultures?
A.
The core issue of this question stems from a false application of "multiculturalism" — one that is politically correct, educationally encouraged, and sounds nice. But leaving people trapped in sin and isolated from God's hope of salvation isn't the "considerate" option.
As Christians, we bring the cross-cultural, life-changing message of Jesus Christ and His forgiveness for sin. Our purpose is not to propagate our own cultural standards, but to present the Gospel in a redeeming yet culturally sensitive way to all people we meet. Eliminating the beautiful uniqueness of international culture is not the purpose of missions; at times, however, sinful elements of a particular culture may need to change.
I will never forget an interview I had with an outstanding Christian teenager who attended a public high school. This young man led a lunchtime "Bible club" and worship time that grew to reach 250 of his fellow classmates. He was writing a school research paper on Christian missionary work and, specifically, he was trying to support his thesis that "modern missionaries do not attempt to 'change' foreign cultures."
I understood this young man's heart. He was trying to explain how today's Christian missionaries are different — more culturally appreciative and sensitive — than some of the old-time colonial missionaries (who attempted to expand all aspects of Western civilization throughout the world). But I still disagreed with his conclusion.
I asked this young man a pointed question. "But don't you try to 'change the culture' of the people you are trying to reach? Just look at the typical 'culture' of the teens in your high school before they come to Jesus Christ! Look at the way they dress! Listen to their music, their foul language, and the way they address their teachers! What about the DVD's they watch and the movies they sneak into? What about typical teenagers involved in premarital impurity, or the girls who've had abortions? Aren't all of these a part of teen 'culture'?"
I went on to explain to him, "Culture is life!! When you share Christ in your high school, of course you don't want your friends to stop being teenagers — that's who they are! But you do want Jesus Christ to totally transform the way they live and the way they make their decisions!"
Around the world, societies that have developed isolated from God's laws and the gospel are filled with sinful cultural elements:
tribal hatred, ancestral worship, and idolatry
immoral sex, adultery, and prostitution
drug addiction, drunkenness, and witchcraft
abuse and neglect of women and children
As Christians, our job is to bring the light of Jesus to every precious culture. Through His Word and His Holy Spirit, God will show people the changes they need to make to redeem their cultures back to Him.
All people are equally valid. All cultures need Jesus.
Revelation 5:9
And they sang a new song, saying: "You are worthy to take the scroll, And to open its seals; For You were slain, And have redeemed us to God by Your blood Out of every tribe and tongue and people and nation."
KELOLife Television in Aberdeen, South Dakota ran a feature about one of Harvest Ministry's sponsors, an energetic 10-year-old, named Ethan, who's been selling lemonade (for three years!!!) to support his orphan friend, Allan, in Uganda. Ethan really takes his sponsorship commitment seriously!

It was a sweet news clip . . . and a blessing!

Lemonade for an Orphan Friend!

Please keep Harvest Ministry and all of our orphan children in your thoughts and prayers.

P.S. Ethan was inwardly "moved with compassion" with a specific burden on his heart; he felt that if he didn't raise that last $4, his orphan friend would "die." We're all so inspired by Ethan's commitment; but be assured that if any of our sponsors are unable to meet their commitment (of $1/day), we'll simply trust God together for His provision!!! Amen???
National Evangelism Team Support – PRAYER & PRAISE:

Learn more about Harvest Ministry's N.E.T.S. Minister, Paul Sundersingh and his wife, from Andhra Pradesh in S.E. India. Through a one-on-one church sponsorship this national couple will be supported in mission work.

Harvest Ministry provided a new motorcycle to help Paul with remote missions evangelism and to help him as he travels to check up on the seven village churches and national pastors he is overseeing. There is also a specific prayer need for education for orphans and for the village minister's children. Please join with us in prayer for these mission needs – for HEALING for Paul's co-worker, for PROVISION for his motorcycle, and for more SOULS to be won to Jesus Christ through this evangelistic ministry in INDIA.

Paul & Krishna Sundersingh & Family
"The Pit" is unlike anything you have likely experienced. It is totally different than a camp porta-potty and has absolutely no resemblance to a typical American bathroom . . .

Mission Maker Magazine

Ann's article, "The Lighter Side of Missions," published in Mission Maker Magazine, featured funny mission stories about rats, pit toilets, and eating grasshoppers. It's a highlight from her book, The Mission-Minded Child – Raising a New Generation to Fulfill God's Purpose.
Back to Mission-Minded Books & Resources
Of Rats & Pits:

Never Shine a Flashlight Down THE PIT!

A Dunagan Family Mission Story

(from Ann's perspective)




"The Pit" is unlike anything you have likely experienced. It is totally different than a camp porta-potty and has absolutely no resemblance to a typical American bathroom. Not one home decorating magazine is displayed in a basket to read at your leisure, not one pretty towel hands on a shiny silver bar, and fluffy coordinating bathmats are nowhere to be seen.

The Pit it a cement or mud cubicle with a weathered wooden door, a six-inch square hold in the ground, and an unforgetable "aroma" –all above a very, very deep pit.

One night we were in a remote African village dominated by demonic witchcraft. It was late . . . and dark; and a while after the evening ministry time was over our outreach team got rolling in one of those funny, middle-of-the-night conversations. The topic turned to some very practical missionary advice: "Be sure to never shine your flashlight down the Pit!" (Have you ever watched that scene from Raiders of the Lost Ark when Indiana Jones throws a torch down into the forbidden tomb and sees what he dreaded most–the floor alive with snakes?! I think you get the picture. The Pit is often swarming above with flies; and in the unknown depths below, it's alive . . . with no ones now what!)

We were all laughing hysterically, including me . . . until I realized I had to "go," and it just couldn't wait until morning.

I got out my flashlight and went out into the darkness, through the rain–all by myself to the Pit. By this time, nothing seemed funny anymore. I was very tired and wouldn't have minded those fluffy coordinating bathmats As I neared the "aroma," I tried to decide my strategy. How could I go about using the Pit without shining the flashlight down?

When I arrived, I quickly threw open the rickety door–and barged in upon the biggest rat I had ever seen in my life! (With its tail it must have been nearly two feet long!) I wish I could say I was your strong unflinching woman; but I screamed and just stood there, soaking wet, crying in the dark.

My precious husband, Jon, came to my rescue, got rid of the creature, made sure the coast was clear, then stood guard to make sure I was protected.

I bravely reentered the Pit with my flashlight, while my husband reentered his comical, slightly mischievous mood. He told our team to come watch something funny as he rolled a rock toward me under the Pit's door. My reaction did not let them down. I thought the rat was attacking me and I totally freaked out.

Everyone (except me!) thought it was the funniest joke of the evening!
As Christian families, we need God's perspective on finances, and a vision for how our resources can help to expand His kingdom – especially in tough times.

In our family's living room, a small handcrafted treasure chest displays simple coins from around the world. Most of the pieces are dull and worn, while some a new and shiny. Our children often enjoy fingering the various francs from France, pulas from Botswana, and euros from Europe, to mention just a few. My favorite is an intricate gold-and-silver-colored piece from Italy, although, as with most of these coins, I have no idea of its worth. Some of the coins are no longer in circulation; some of the countries they're from no longer exist. All are simply extra pocket change left over from years of past mission trips, each saved as little souvenirs and little reminders that money is only a temporary "little thing." Each coin is (or was) valuable only because some government somewhere determined it would have value.

But money is also a "big thing" – and we can't underestimate the importance of training our children to have a godly perspective toward money and financial stewardship.

Our money represents our life; our time, our talents, our education and experiences, and our priorities. In fact, if we really want to find out what is important to us, we can simply look back through our checkbooks and credit card statements over the past few months. Our true priorities are right there in black and white (or red!); and the numbers don't lie.

It's really very simple. If we have a heart for the Lord and for the lost, we will give our resources to glorify Him and to help spread His Gospel message; and if our children are raised with this perspective, it will affect their bottom-line attitude toward the purpose of money. Both parents and children need to acknowledge regularly that everything we have ultimately belongs to God: our life is God's, our home (or bedroom) is God's, our car (or bicycle, or special toy) is God's, our money is God's.

We're all simply stewards of God's "stuff."

During the Great Depression of the 1930s, J.G. Morrison urged Nazarenes to increase missionary support, as he earnestly pleaded:
"Can't you do just a little bit more?"

When times are tough, our families need to "sow in famine" (like Isaac in Genesis 26:12) and "lay up treasures in heaven" (like Jesus commanded in Matthew 6:20). Physical needs worldwide are greater than ever; orphan children desperately need help; sacrificing missionaries need continual support and prayers; and billions of people need to hear the Gospel message of Jesus Christ.

During today's economic downturn, let's do more for the needs of world missions. Let's be faithful stewards of the many resources God has given us, and let's encourage our children to participate.

As mission-minded families, let's do just a little bit more.
This article by Ann Dunagan, is an excerpt from her newest book, The Mission-Minded Family – Releasing Your Family to God's Destiny (Authentic Media). It is also published on The Christian Post's "Better Parenting – Better Families" blog.
Looking for a mission-minded summer outreach idea . . . for your family, teenagers, home group, or children's church? How about planning a backyard or neighborhood Vacation Bible School to share the Gospel and God's heart for the world?

As a special gift from Harvest Ministry, we would like to provide you with this FREE Vacation Bible School Curriculum: Missions Adventure Preparation School!




This Bible-based kid-tested curriculum includes complete day-by-day instruction outlines. Throughout the week-long adventure, your kids will "travel" around the world (to Africa, Asia, Europe, India, and Latin America) on their own "M.A.P.S. for KIDS International Airlines" — through "Customs" with their own personal "Missionary Passports" (the program even has printable passport and visas!).

Best of all, your kids will learn to draw closer to God, to obey His awesome Word, and to follow Jesus all throughout their lives . . . to do whatever God says to do, to give whatever God says to give, and to go wherever God says to GO!
M.A.P.S. for KIDS!!!

A 5-Day Mission-Minded V.B.S. Curriculum

Each day includes . . .


A different international theme
A Bible memory verse and a mission-minded focus
An easy object lesson
A missionary monologue skit
An easy craft idea
An international mission-minded snack idea
A fun outdoor missionary adventure
Day-by-day instructions for six ministry training workshops to equip children in mission skills (such as puppetry, drama, music, or the EvangeCube).
A concluding M.A.P.S. for KIDS Program
Plus much more!
Be blessed! Have fun! (And if possible, let us know how it went!!!)




If you use this M.A.P.S. for KIDS curriculum, or any part of it, we would sure enjoy hearing how your program went. Let us know how you used the curriculum, where you live, and how many children were involved. Feel free to add positive feedback from anyone who was involved . . .  or any helpful ideas. Our heart is to encourage and challenge children's ministers, teachers, and parents to equip the next generation for world missions.

It's easy to do, very effective, and best of all, it's FREE!!!
Come take a look!
Here are a few highlight photos: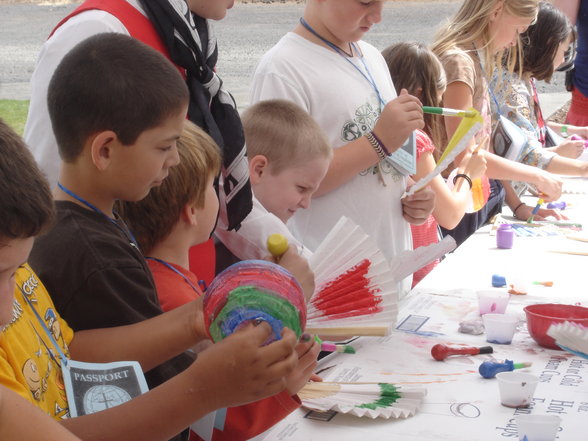 Making international crafts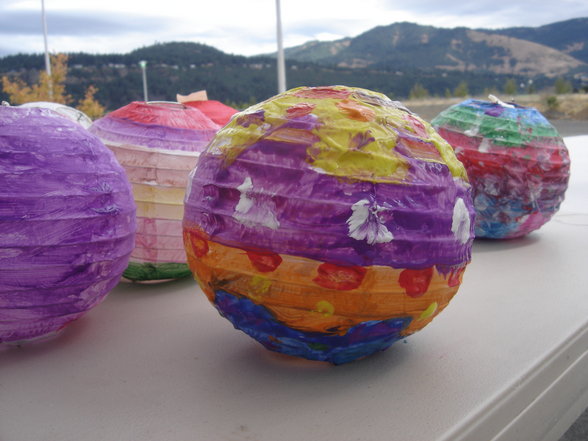 For ASIA-DAY: Painted Oriental Lanterns and Fans

Learning to use chopsticks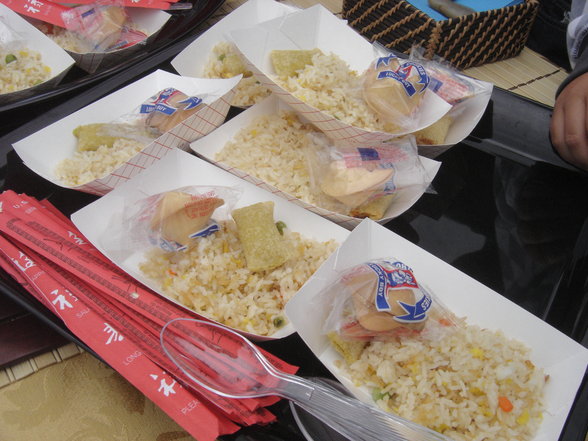 The International Food Cafe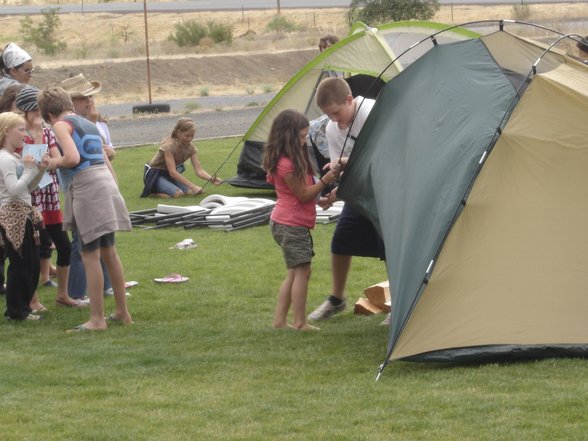 Outdoor Adventures: Setting up a "MISSIONS CAMP"

(Completed "CAMP" – (Notice the Bibles on the chairs!!!)